FOR IMMEDIATE RELEASE:
powerHouse Books is pleased to announce the September 2010 release of
Chasing Beauty
By Richard Phibbs
Foreword by Michael Cunningham
Editing and design by Alfredo Paredes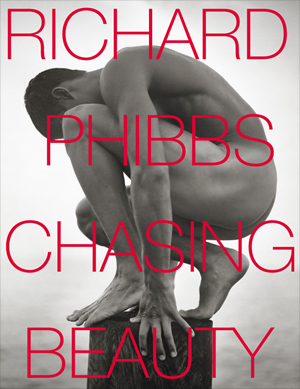 "It's a constant search—chasing beauty, chasing hope. I'm not interested in the dark."
That's renowned photographer Richard Phibbs, known for his celebrity portraits and iconic ad campaigns for Ralph Lauren, Giorgio Armani, and Calvin Klein, regarding his latest project: Chasing Beauty, a beautiful and provocative book from his celebrated archive or work from 1997–2010.
Phibbs' passion is photography. His goal with his first book was to give hope and bring beauty into the world.
It has been a deeply personal journey, a three-year labor of love. Phibbs believes photographs can cause change and inspire and motivate. When his longtime friend Alfredo Paredes agreed to collaborate, Richard knew the time for his book had come.
Paredes, Executive Vice President and Chief Creative Officer for Retail, Polo Ralph Lauren, responsible for bringing Ralph Lauren's cinematic vision to life in stores and showrooms worldwide, made one caveat: Phibbs was to step back and relinquish control. His vision was to choose photographs and realize Phibbs' unique aesthetic. The result is a fascinating juxtaposition of images that excite, tantalize, shock, and surprise—consistent with Phibbs' vision of beauty. An exquisite rose plays against the rawness of a sweaty rugby player; Phibbs' dog Huck triumphantly sails over a dune. This is pure Phibbs.
"Some things can't be expressed in words. That's what's so emotional and revealing in a photograph," Phibbs says. "That's one moment in time. When I'm shooting and that special moment happens, when I lose my breath a bit, I know. That's the picture."
Richard Phibbs is always searching for that connection.
He's always chasing beauty.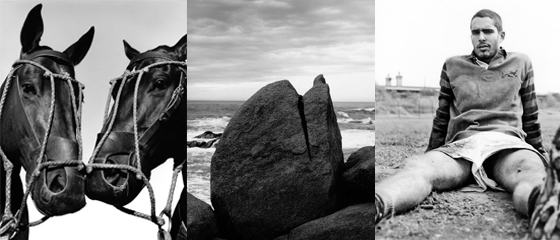 Richard Phibbs was born and raised in Canada. He received degrees from University of Toronto and Parsons in New York City. His commercial work has appeared in major publications worldwide. He has shot ad campaigns for such iconic brands as Giorgio Armani, Ralph Lauren, and Calvin Klein. Phibbs has also shot many portraits of notable cultural figures including Meryl Streep, Bernard-Henri Lévy, Hillary Clinton, and Beyoncé. Aside from photography, Phibbs has dedicated much of his time and resources to charity. He has traveled to Bucharest four times and set up a charity, Children of Nowhere, to help Romanian children suffering from AIDS. Richard lives in New York City.
Michael Cunningham was born in Cincinnati, Ohio and grew up in California. He received his BA in English Literature from Stanford University and his MFA from the University of Iowa. He is the author of the novels, A Home at the End of the World (Picador, 1990), The Hours (Picador, 1999), for which he received a Pulitzer Prize for Fiction and the PEN/Faulkner Award, and Specimen Days (Picador, 2005), among others. The Hours was eventually adapted into a film starring Julianne Moore, Nicole Kidman, and Meryl Streep. Cunningham lives in New York City and is presently writing a new book and teaching at Yale University.
Alfredo Paredes is Executive Vice President and Chief Creative Officer for Retail, Polo Ralph Lauren, bringing Mr. Lauren's cinematic vision to life in the Ralph Lauren stores around the globe and leading Ralph Lauren Home's creative direction, design, and advertising. Alfredo passionately serves on the national board of trustees for Design Industry Foundation Fighting Aids (DIFFA) and sits on the Empire State Pride Agenda's board of directors.
BEAUTY / PHOTOGRAPHY / FASHION
Clothbound, 10.25 x 13.25 inches, 144 pages, 114 full–color and black–and–white photographs
ISBN 978-1-57687-561-2 $50.00
To preview the book please visit: http://www.powerHouseBooks.com/chasingbeauty.pdf
High-res scans to your specification are available upon request; scanning from the book or lifting images from the mechanical file are strictly prohibited. Mandatory credit line: from Chasing Beauty by Richard Phibbs, published by powerHouse Books.
For more information, please contact Craig Cohen, Executive Publisher
powerHouse Books, 37 Main Street, Brooklyn, NY 11201
Tel: 212-604-9074 x113, Fax: 212-366-5247, email: press@powerHouseBooks.com

© Copyright 2010 powerHouse Books